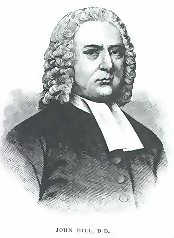 John Gill (1697-1771) was born Kettering. He started at the local grammar school but the head instead that the students attend the local Anglican church, his parents couldn't agree to this as so removed John form the school. In 1716 he was baptised on confession of his faith at Little Meeting Baptist Church.
He moved to Higham Ferrerrs, near Rushden, Nothnaptonshire to live with John Davis the Welsh pastor of the newly founded Baptist Church. While there he married Elizabeth Negus who was one of the congregation. In 1719 he became the pastor of Horsleydown Particular Baptist Church in Southwark, a congregation planted by Keach. Gill was the pastor there until his death in 1771. During that time Gill became the foremost Particular baptist theologian and a leader of the London Particular Baptists.
Gill was good friends with John Skepp and bought many of Skepp's books when he died. He agreed with Skepp over that the free offer of the gospel was not scriptural.
Gill was a controversialist and wrote many books and gave many lectures with the aim of refuting erroneous theological views. Those he took issue were: John Wesley over predestination; Abraham Taylor and Job Burt over the view that eternal justification led to antinomianism; and Daniel Whitby (the Anglican Arminian) over the issue of election. Gill also defended the Baptist cause. He was also the first person to complete a verse by verse commentary in English of the Bible it comprised of nine volumes.
He was also great friends with the Baptist John Collett Ryland (1723-1792), but differed with him over the nature of communion - Ryland was an advocate of open communion - and the Anglican Augustus Toplady (1740-1778).
Peter Toon maintains that Gill was a hyper-Calvinist. Daniel Curt describes Gill's
A Body of Doctrinal and Practical Divinity
as 'the definitive expression of Hyper-Calvinist Covenant Theology' and Gill as the 'archetypical Hyper-calvinist'. Tom Nettles (
By His Grace and for His Glory
) and George Ella disagree that Gill was a hyper-Calvinist.
Gill was a supralapsarian.
Many of Gill's writings are available here:
http://www.prdl.org/author_view.php?a_id=1996
The one-volume
A Body of Doctrinal and Practical Divinity
(as are others of Gill's works including a
CD of his works
) are available from the Christian bookshop, Ossett.