Benjamin Keach (1640-1704) was born in Stoke Hammond, Buckinghamshire. As a teenager he read the scriptures and came to an understanding that they were 'silent concerning the baptism of infant', he joined a Baptist congregation at Wimslow and was baptised.
While at the Baptist church he married Jane Grove in 1660 and had a calling to church ministry. In 1664 he was almost killed by troopers and was imprisoned for his advocacy of believers's baptism. He was placed in a wooden pillory and ridiculed, but he took the opportunity to preach the gospel.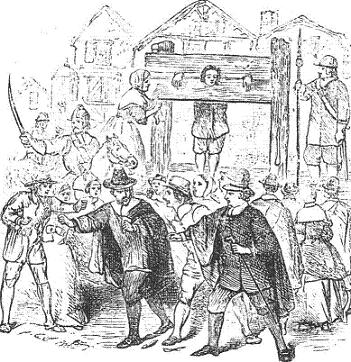 In 1668 he and his family moved to London. He was ordained as an elder in the General Baptist church in Tooley Street, Southwark. It was here he met Hansard Knolleys and William Kiffin and embraced the Calvinist theology of the Particular Baptists. He began a Calvinistic Baptist congregation in Horsleydown, Southwark. He also planted new congregations in the south of England.
One controversy that Keach became embroiled in was regarding hym singing. Keach had introduced hymns in addition to psalm singing in public worship and this was not appreciated by some, notably Isaac Marlowe (1649-1719).
Some of Keach's writings are available here: