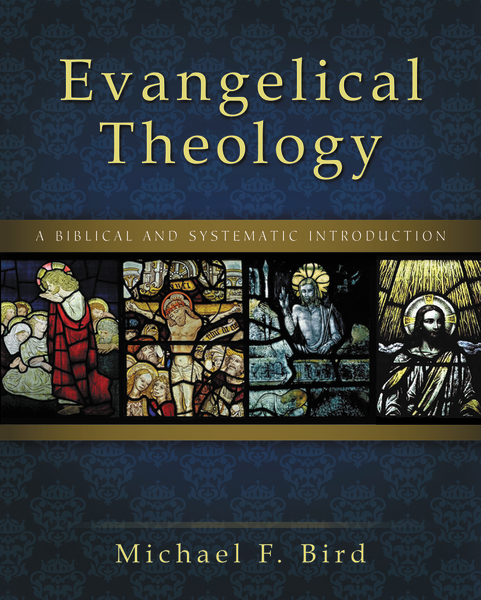 Evangelical Theology
A Biblical and Systematic introduction
Michael F. Bird
Grand Rapids: Zondervan, 2013.
ISBN: 9780310494416
Hbk, 912pp, £28.99
Gordon Spykman in his superb
Reformational Theology
describes the eclipse of creation in theology. He writes that much of evangelical theology:
gives the impression of bypassing creation in a hasty move to take a shortcut to the cross.
Michael Bird
in his evangelical theology doesn't do that. This is refreshing in an evangelical systematic theology.
What is the single most important thing in evangelicalism? Bird maintains it is the gospel - so he has written a systematic theology that reflects that emphasis. What is the goal of theology? That we would be gospelised! But this raises the question what is the gospel? Is it the redemption of creation, the escape of Christians to heaven, or what? How does Bird view the gospel? He cites with approval Al Wolters who demonstrates that "creation regained" is an underlying theme of the gospel:
The gospel envisages a comprehensive restoration of the created order so that the relational disruption between God and creation caused by the intrusion of evil can be finally resolved. … The gospel is umbilically connected to the wider concepts of covenant and creation.
Such an approach alone would justify the purchase of this book.
Comparison with Grudem's
Systematic Theology
is perhaps inevitable. For me Bird's is by far the superior book.
For Grudem the focus is on what does the Bible say, for Bird it is also the engagement with contemporary theological ideas. Though this is a strength of Bird's approach it may prove to be its weakness as it may well date it.
A look at the contents shows marked differences: Bird starts with God, Grudem with the Bible. Grudem emphasises doctrine, Bird the gospel. In comparison Grudem is lame and pedestrian. This may be in part its age. Bird is a most welcome replacement for Grudem.
I have attempted to summarise some of the differences between Grudem and Bird in the table below.
Other than Spykman's sadly out of print
Reformational Theology
I can think of no better summary of theology.



Grudem

Bird

No of pages

1296

912




Cost

$49.99

$49.99




Intended aim/ purpose

Written primarily it for students … "but also for every Christian who has a hunger to know the central doctrines of the Bible in greater depth."




To produce a textbook for Christians that represents a biblically sound expression of the Christian faith from the vantage point of the evangelical tradition.

Intended audience

Students and all those who want

to know the Bible

To be accessible to laypeople, seminary students and leaders in the evangelical churches




Author's stated theological position

Holds to a "conservative view of biblical inerrancy, very much in agreement with the "Chicago Statement" of the International Council on Biblical Inerrancy … and a traditional Reformed position with regard to questions of God's sovereignty and man's responsibility …, the extent of the atonement …, and the question of predestination

.




Ex-Baptist post-Presbyterian Anglican.

Reformed, evangelical and Calvinist

Overview of Contents

Part 1 Doctrine of the Word of God

Part 2 Doctrine of God

Part 3 Doctrine of Man

Part 4 Doctrine of Christ and the Holy Spirit

Part 5 Doctrine of the application of redemption

Part 6 Doctrine of the church

Part 6 Doctrine of the future

Part 1 Prolegoma: Beginning to talk about God

Part 2 The God of the gospel: the triune God in being and action

Part 3 The gospel of the kingdom: the now and the not yet

Part 4 The gospel of God's Son: The Lord Jesus Christ

Part 5 The Gospel of salvation

Part 6 The promise and power of the Gospel: The Holy Spirit

Part 7: The Gospel and humanity

Part 8: The community of the gospelized




Prolegomena

No

Yes




Indexes

Author

Hymn

Scripture

Subject




Scripture and Apocrypha

Subject

Author

Definition of (Systematic) Theology

Uses the following definition of

John Frame: "

Systematic theology is any study that answers the question, "What does the whole Bible teach us today?" about any given topic

.

"




The study of the living God.

"It is the attempt to say something about God and God's relationship to the world. It is thinking about faith from faith. In a sense, theology is very much akin to the study of philosophy, worldview, religion, ethics, or intellectual history; it is a descriptive survey of ideas and the impact of those ideas."




Position on charismata

"all the gifts of the Holy Spirit mentioned in the New Testament are still valid for today, but that "apostle" is an office, not a gift,

and that office does not continue today."




not all of the gifts and offices have to endure ... For instance, I think it likely that the offices of prophet and apostle, which were eschatological ministries to provide the "foundation" for the church (Eph 2:20), no longer persist because the foundation has been laid, and the apostolic office and prophetic voice is largely subsumed into Christian preaching, witness, and teaching.







Position on women

"neither traditional nor feminist,

but 'complementarian'—

namely, that God created man and woman equal in value and personhood,

and equal in bearing his image,

but that both creation and redemption indicate some distinct roles for men and women in marriage .. and in the church.




Not made explicit here. Elsewhere in Bourgeois Babes, Bossy Wives, and Bobby Haircuts he argues for almost an egalitarian position.

Position on eschatology

Premillennial and post-tribulation.

"I would seriously like to be amillennial. It is so much simpler. It recognizes the already' and 'not-yet' of biblical eschatology and avoids the eccentricities of postmillennialism and dispensational premillennialism"… "I conclude that the biblical eschatology is best described as historic premillennialism."